About Adelaide Lodge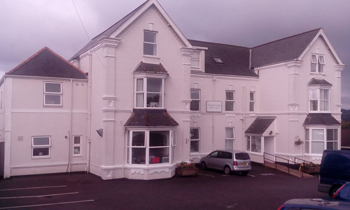 Adelaide Lodge is a large detached property dating back to the turn of the century, constructed of brick under a pitched slate roof. The majority of the accommodation is on three floors with a two storey extension (Canberra wing) built in 1997 and the new single storey Melbourne wing completed in July 2007. The property occupies a site of approximately one acre, with a totally new landscape sensory garden.
All bedrooms are fully furnished, have wash hand basins, a television aerial socket, and a nurse call pull cord and most enjoy extensive views of the rolling countryside. The property boasts a five person lift servicing the three floors which allows even the most immobile access to all levels, communal rooms and gardens. All rooms are tastefully decorated and furnished with all rooms in the Canberra wing having En suite facilities; two with their own baths.
The recently completed Melbourne extension offers ten single bedrooms and one double bedroom all having En suite "wet-room" shower facilities with WC and wash basins. A new conservatory attached to the lounge leads onto the extended patio.
Helping you choose the right care.
Choosing the right Care Home for oneself or for a dear relative must be one of the most difficult decisions to make. Often this decision has to be made as a result of circumstances just when emotions are running high and it can all be very overwhelming.
The team at Adelaide Lodge are there to help in making that decision easier. They are able to offer confidential, practical advice and support. Melanie and her team are available at any time to discuss queries or concerns you may have. Visits can be arranged if you would like to see around Adelaide Lodge and also the new "Melbourne Wing".
Melanie can be contacted on: 01404 42921.
Care Quality Commission (CQC) - click here to learn more. View our latest report (PDF format).